Each year the Cooper Trooper Foundation hosts it's primary fundraiser, the "Pumpkin Patch" at the corner of Cool Springs Blvd. and Mallory Lane. We will not open until Saturday, October 15th in 2022, but will remain open each day through Halloween, as always…or until we run out of pumpkins. The Pumpkin Patch is operated by hundreds of volunteers throughout the month.
We are proud to say that after we pay for pumpkins, 100% of the profit from this fundraiser goes straight to the Cooper Trooper Foundation. Our mission of funding pediatric cancer research through a fund set up with Monroe Carell Jr. Children's Hospital at Vanderbilt, along with supporting siblings of children diagnosed with cancer. We do this by sending those siblings a special backpack full of items (at no cost to the family) just to brighten their day and help remind them that they are not forgotten. It is because of our volunteers, generous sponsors, and the thousands of customers who purchase their "pumpkin for a purpose" that we are able to continue doing what we do to help these families whose worlds have been turned upside down by childhood cancer.
If you or a group you are involved with are interested in volunteering at the patch, please visit our online volunteer sign-up form (2022 Volunteer sign up available in early September) or email info@coopertrooper.org! We would LOVE to have you involved and promise you will have a GREAT time!
Please be note that for the 2022 patch, we will be following CDC and local guidelines for health and safety, as there continues to be a threat to our community. We ask that volunteers and customers practice social distancing, use hand sanitizer, and do not visit the Pumpkin Patch if you are feeling ill or have been exposed to Coronavirus.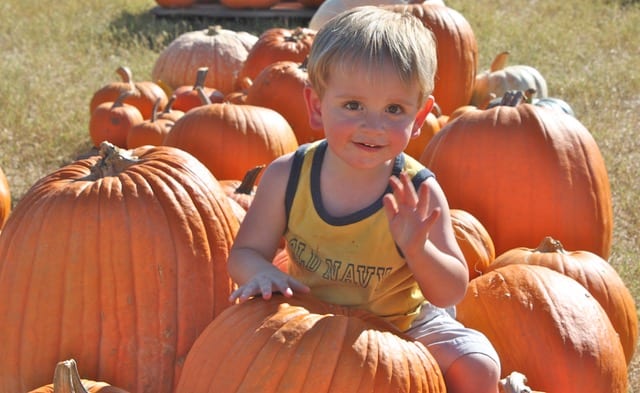 Where is The Cooper Trooper Foundation's Pumpkin Patch?
Located in Franklin, Tennessee at the corner of Cool Springs Blvd. and Mallory Lane in front of Walgreens (530 Cool Springs Blvd., Franklin, TN 37067).
What are the dates/hours of operation?
The  Pumpkin Patch will be in operation Saturday, October 15 – Monday, October 31st. We reserve the right to close during inclement weather and will post this on our instagram and facebook page immediately upon doing so.

Hours are:

Sunday-Friday- 10am – 7pm

Saturday 9am – 8pm
What kind of payment do you take for purchasing pumpkins?
We accept all major credit cards, including contactless payments through apple pay, google pay, venmo etc. We will accept cash or checks for donations only. Additionally, donations may be added to a customers purchase at checkout for your convenience.
Is there a cost to get in to the pumpkin patch?
No. We hope that your visit to our pumpkin patch is an opportunity for you to purchase our amazing pumpkins and gourds, as 100% of the profit from sales go directly to The Cooper Trooper Foundation. Buying "pumpkins for a purpose" is what it is all about! 
What else is there to do at the Patch?
You may take personal photos at the patch…if we aren't helping someone else with their pumpkins, we will even take a family photo for you with your phone! We have the right to ask that you use discretion in the amount of time you spend taking photos, so as to not interfere with customers purchasing pumpkins. We ask that you not sit on or interfere with the pumpkins while photographing. We have a designated photo area set up for taking pictures that we recommend you take advantage of, if you would like to have a picture made. Additionally, please include #ctfpumpkinpatch if you post on social media and let your friends know that we are the place to buy their "pumpkins for a purpose." 
Note: Professional photographers must get permission by contacting missycook@coopertrooper.org BEFORE taking any photographs. There will be an additional charge and there are certain stipulations/guidelines that must be agreed to. A $50 donation per 30 minute session is required BEFORE photographing, and is ONLY allowed during hours that the patch is NOT open. Our hours of operation are Sunday-Friday 10am-7pm and Saturday 9am-8pm.
Our hope is that you will come have fun with your family and purchase a few pumpkins or kindly consider a small donation before you leave, to support our mission of helping families who have a child diagnosed with cancer!
How do I volunteer to work shifts at the pumpkin patch?
Click here to visit the online Volunteer Sign Up Calendar (2022 Sign Up Calendar available in early September). There are daily shifts, which require a specific number of people to make sure things operate smoothly.  We can only have the number of specified volunteers, so please make sure you have signed up for a specific spot on the calendar. NOTE: Volunteers that are under the age of 16 should NOT sign up for a shift spot on the calendar, but are welcome to come with a parent or adult who will sign up themselves for a spot. The only exception is for our designated shifts for 14+year olds, specified on the volunteer calendar for Wagon Helpers. We ask that you not volunteer for a shift if you have young children that will require your attention during your shift. This is for everyone's safety.
What do I need to know about volunteering to unload pumpkins?
There is a place on the Volunteer  Calendar to sign up for pumpkin unloading on specific days. If you are with a group- a representative from your group should sign up with the group name and the number of volunteers. For example, (PAGE HIGH SCHOOL FOOTBALL- 40 VOLUNTEERS). 

Please NOTE: Due to safety concerns, children under the age of  14 years old, are NOT permitted to help with pumpkin-unloading. 
Are animals allowed at the Pumpkin Patch?
ONLY service animals are allowed on the premises and must be secured by the owner at all times. If the animal causes disruptions, is not house-broken, or poses a threat in any way, CTF reserves the right, according to ADA guidelines, to ask that the animal be removed from the property. 
What about children volunteering at the patch?
– Only those age 16 and above can sign up for a shift on the volunteer calendar. We must insure that each shift is adequately covered, so if you sign up your child, it will take up a spot needed for an adult.

– Children ages 14+years old may sign up for our weekend spots to be a "wagon helper".  For safety reasons, there must be at least 2 children (or a child with an adult) to take wagons down and help load customers cars. NO ONE UNDER THE AGE OF 14 years old may take wagons down the hill. Please note that it is a steep hill and requires focus, strength, and the ability to control a wagon full of heavy pumpkins. DO NOT sign up for this spot if you are unable to meet those demands. Children under the age of 12 years old, should plan on working alongside their parent during a shift, and will be under the parent's supervision. If your child (at any age) is not able to work with you or be independent during a shift, we would ask that you find childcare or consider another shift that you can come without your child. While we love for families to be involved, we need all adult volunteers who sign up, to be undistracted and ready to help customers. Again, our #1 concern is safety for everyone and making sure our customers are given the best experience possible.

-Finally, NO CHILDREN ARE ALLOWED BEHIND THE CHECKOUT AREA, and no one who hasn't been specified or trained to work checkout and handle cash can be in this area or use our checkout devices. For insurance purposes, we MUST enforce this rule.
So, where do the pumpkins come from? Are they donated?
No. The pumpkins are NOT donated. We purchase our pumpkins from farmers across the U.S. at wholesale pricing, then sell them as our primary fundraiser for the Cooper Trooper Foundation, a 501(c)3 non-profit. 
Volunteer Opportunities
We need you! It takes hundreds of volunteers to "run" the pumpkin patch each year. Be sure to read our FAQ page for information regarding age requirements and other volunteer info.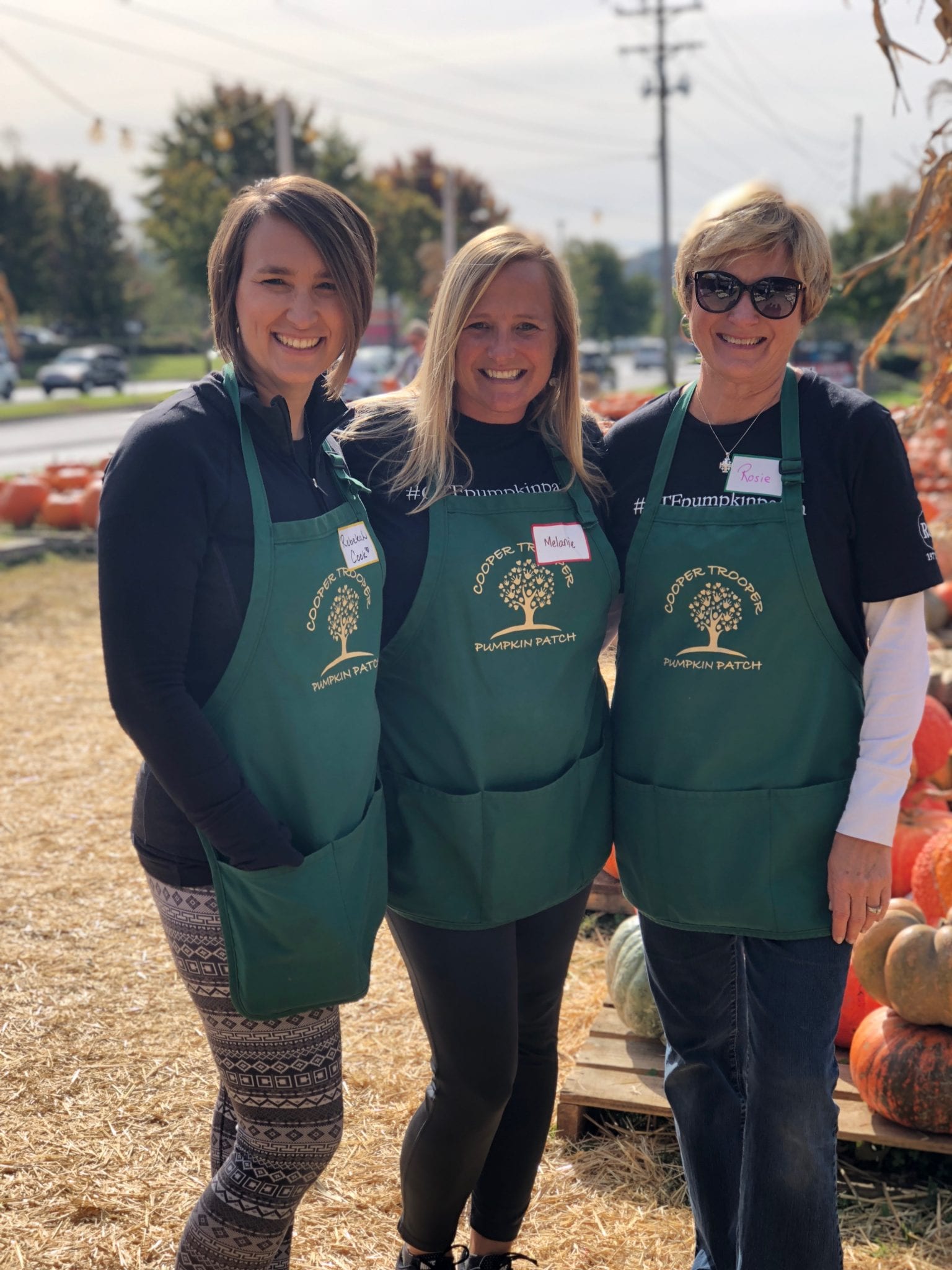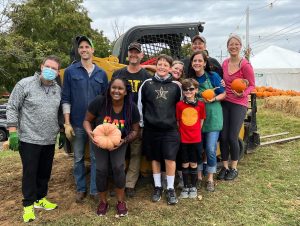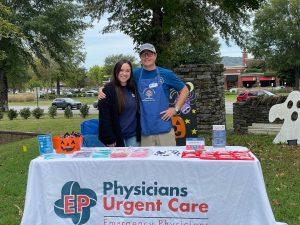 Do you have a business or company that would like to be a Corporate Sponsor of The Cooper Trooper Foundation's Pumpkin Patch? Not only will you be supporting a local non-profit in your community, but will have the advantage of "marketing" your business during the month at one of the most heavy volume-of-traffic intersections in the county.
Our deadline for the 2022 Pumpkin Patch Sponsor opportunities has passed, but please fill out the form if you are interested in sponsoring the 2023 Pumpkin Patch and we will contact you with information in the spring of 2023.
A special thank you to our 2022 Diamond & Platinum Sponsors
CAT Financial
Physicians Urgent Care, BlueCross BlueShield of Tennessee, Cool Springs Montessori, &
Bermudez Flooring
For more information, please read the sponsorship brochure by clicking here, then complete the Sponsorship Submission Form.
Cooper Trooper Foundation Student Leadership Internship
Purpose
To offer exclusive opportunities to volunteer at the Pumpkin Patch for high school students who are selected after an application/interview process. After application, students will have a brief phone/zoom interview with a representative of Cooper Trooper Foundation. Those selected will officially become the Student Intern Leaders.
What to Expect
Guaranteed 30-40+ volunteer hours

Training for volunteer duties (training hours will count toward service hours)

Leadership opportunities and mentoring while in volunteer role

At least one Letter of Recommendation from a Board Member or Direct Supervisor

Pumpkin Patch Volunteer T-shirt to designate your role as a volunteer for the foundation

You are able to include your internship on a resume or in your college application/essays stating that you were selected for an internship with a 501(c)3 non-profit organization
Do I have to be an intern to volunteer at the Pumpkin Patch?
No! There WILL still be opportunities for unloading pumpkins and volunteering in various roles by signing up on our Volunteer Calendar (available in September). These opportunities may have limited availability and are based on need. They are not guaranteed.
Why do we have an internship program?
Cooper Trooper Foundation's hope is that we can be more intentional about making volunteering an experience that students will value and take ownership in. We want our interns to be knowledgeable about and share a passion for the mission behind our pumpkin patch. In return for the students' commitment, we are willing to invest our time to pour into the students and create an experience that will benefit them in the future.
Want to apply? Next Steps:
Complete the application below and submit
OR
download the pdf document also below, print and then fill out completely.  You may email a scanned copy or U.S. Mail to the address shown:
The deadline to apply is June 11, 2023. Students will be contacted for an interview screening after submission, and decisions will be made and communicated to students by June 30, 2023. A volunteer training for accepted students will take place in August. Interested students should reach out via email to coopertrooperfoundationtn@gmail.com with any questions.
Missy Cook Brookover
Executive Director/Founder
Cooper Trooper Foundation
missy@coopertrooper.org
www.coopertrooper.org
Student Leadership Internship
<DOWNLOAD PRINTABLE FORM>
Will You Join Our Mission?
Will you join us in our mission to support those families that are diagnosed with pediatric cancer today and to help find the cure for tomorrow?