Each year the Cooper Trooper Foundation hosts it's primary fundraiser, the "Pumpkin Patch" at the corner of Cool Springs Blvd. and Mallory Lane. We will open October 5th in 2020, and remain open each day through Halloween. The Pumpkin Patch is operated by hundreds of volunteers throughout the month.
After we pay for our pumpkins, 100% of the profit from this fundraiser goes straight to the Cooper Trooper Foundation to support our mission of funding pediatric cancer research through a fund set up with Monroe Carell Jr. Children's Hospital at Vanderbilt. Additionally,  Cooper Trooper supports siblings of children diagnosed with cancer by sending a special backpack full of items just to brighten their day and help remind them that they are not forgotten. It is because of our volunteers, generous sponsors, and the thousands of customers who purchase their "pumpkin for a purpose" that we are able to continue doing what we do to help these families whose worlds have been turned upside down by childhood cancer.
If you or a group you are involved with are interested in volunteering at the patch, please visit our online volunteer sign-up form or email info@coopertrooper.org! We would LOVE to have you involved and promise you will have a GREAT time!
Please be aware that for the 2020 patch, we will be following CDC and local guidelines for health and safety during the COVID-19 Pandemic. We ask that volunteers and customers practice social distancing, use hand sanitizer, wear masks, and do not visit the Pumpkin Patch if you are feeling ill or have been exposed to Coronavirus.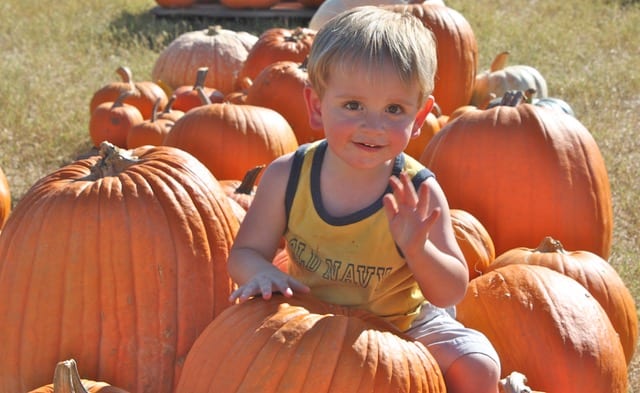 Where is The Cooper Trooper Foundation's Pumpkin Patch?
Located in Franklin, Tennessee at the corner of Cool Springs Blvd. and Mallory Lane in front of Walgreens (530 Cool Springs Blvd., Franklin, TN 37067).
What are the dates/hours of operation?
The  Pumpkin Patch will be in operation Monday, October 5  – October 31st.

Hours are:

Sunday-Friday- 10am – 7pm

Saturday 9am – 8pm
What kind of payment do you take for purchasing pumpkins?
Due to COVID-19, we will NOT accept cash or checks during our 2020 pumpkin patch, for purchases. However, we do accept all major credit cards, including contactless payments through apple pay, google pay, etc. We will accept cash or checks for donations only. Additionally, donations may be added to a customers purchase for your convenience.
Is there a cost to get in to the pumpkin patch?
No. We hope that your visit to our pumpkin patch is an opportunity for you to purchase our amazing pumpkins and gourds, as 100% of the profit from sales go directly to The Cooper Trooper Foundation. We are also proud to let you know that ALL of our pumpkins are from LOCAL farms right here in middle Tennessee, so you are supporting the local farmers as well. Buying "pumpkins for a purpose" is what it is all about!
What else is there to do at the pumpkin patch?
Unfortunately, we are NOT able to have a Kid's Area this year due to the Coronavirus. We realize that this is an exciting part of our patch, so we hope that you understand this if for the health and safety of our customers and volunteers during these unprecedented times. Hopefully, we will be able to bring this back during 2021.

You may take unprofessional photos at the patch…if we aren't helping someone else with their pumpkins, we will even take a family photo for you with your phone! Note: Professional photographers must get permission by contacting missycook@coopertrooper.org.

Our hope is that you will come have fun with your family and purchase a few pumpkins before you leave, to support our mission of helping families who have a child diagnosed with cancer!
How do I volunteer to work shifts at the pumpkin patch?
Click here to visit the online Volunteer Sign Up Calendar. There are daily shifts, which require a specific number of people to make sure things operate smoothly.  We can only have the number of specified volunteers, so please make sure you have signed up for a specific spot on the calendar. NOTE: Volunteers that are under the age of 16 should NOT sign up for a shift spot on the calendar, but are welcome to come with a parent or adult who will sign up themselves for a spot. The only exception is for our designated shifts for 10-15 year olds, specified on the volunteer calendar for Wagon Helpers and High Schoolers. We ask that you not volunteer for a shift if you have young children that will require your attention during your shift. This is for everyone's safety.
What do I need to know about volunteering to unload pumpkins?
There is a place on the Volunteer  Calendar to sign up for pumpkin unloading on specific days. If you are with a group- a representative from your group should sign up with the group name and the number of volunteers. For example, (PAGE HIGH SCHOOL FOOTBALL- 40 VOLUNTEERS). 

Please NOTE: Due to safety concerns, children under the age of  10 years old, are NOT permitted to help with pumpkin-unloading. 
What about children volunteering at the patch?
– Only those age 16 and above can sign up for a shift on the volunteer calendar. We must insure that each shift is adequately covered, so if you sign up your child, it will take up a spot needed for an adult.

– Children ages 10-15 years old may sign up for our weekend spots to be a "wagon helper".  For safety reasons, there must be at least 2 children (or a child with an adult) to take wagons down and help load customers cars. NO ONE UNDER THE AGE OF 10 years old may take wagons down the hill. Children under the age of 10 years old, should plan on working alongside their parent during a shift, and will be under the parent's supervision. If your child (at any age) is not able to work with you or be independent during a shift, we would ask that you find childcare or consider another shift that you can come without your child. While we love for families to be involved, we need all adult volunteers who sign up, to be undistracted and ready to help customers. Again, our #1 concern is safety for everyone and making sure our customers are given the best experience possible.

-Finally, NO CHILDREN ARE ALLOWED BEHIND THE CHECKOUT AREA, and no one who hasn't been specified or trained to work checkout and handle cash can be in this area or use our checkout devices. For insurance purposes, we MUST enforce this rule.
So, where do the pumpkins come from? Are they donated?
No. The pumpkins are NOT donated. We purchase our pumpkins from local Amish farmers, right here in Middle Tennessee and sell them for our fundraiser. 100% of our profit is kept by the foundation to support our mission, after we pay for the pumpkins.
Volunteer Opportunities
We need you! It takes hundreds of volunteers to "run" the pumpkin patch each year. Be sure to read our FAQ page for information regarding age requirements and other volunteer info.
There are limited opportunities for large groups to unload pumpkins during the 2020 patch, as we are trying to do our due diligence in protecting our volunteers and customers during COVID-19. Occassionally, there will be unloading opportunities for smaller groups (under 40) that will be on the sign up calendar. Most of these are full for 2020, but there is a possibility that additional opportunities could arise during the month. We will post those on our social media and add them as spots on the Sign Up calendar, when they arise. So, check back often if you weren't able to get your group involved this year!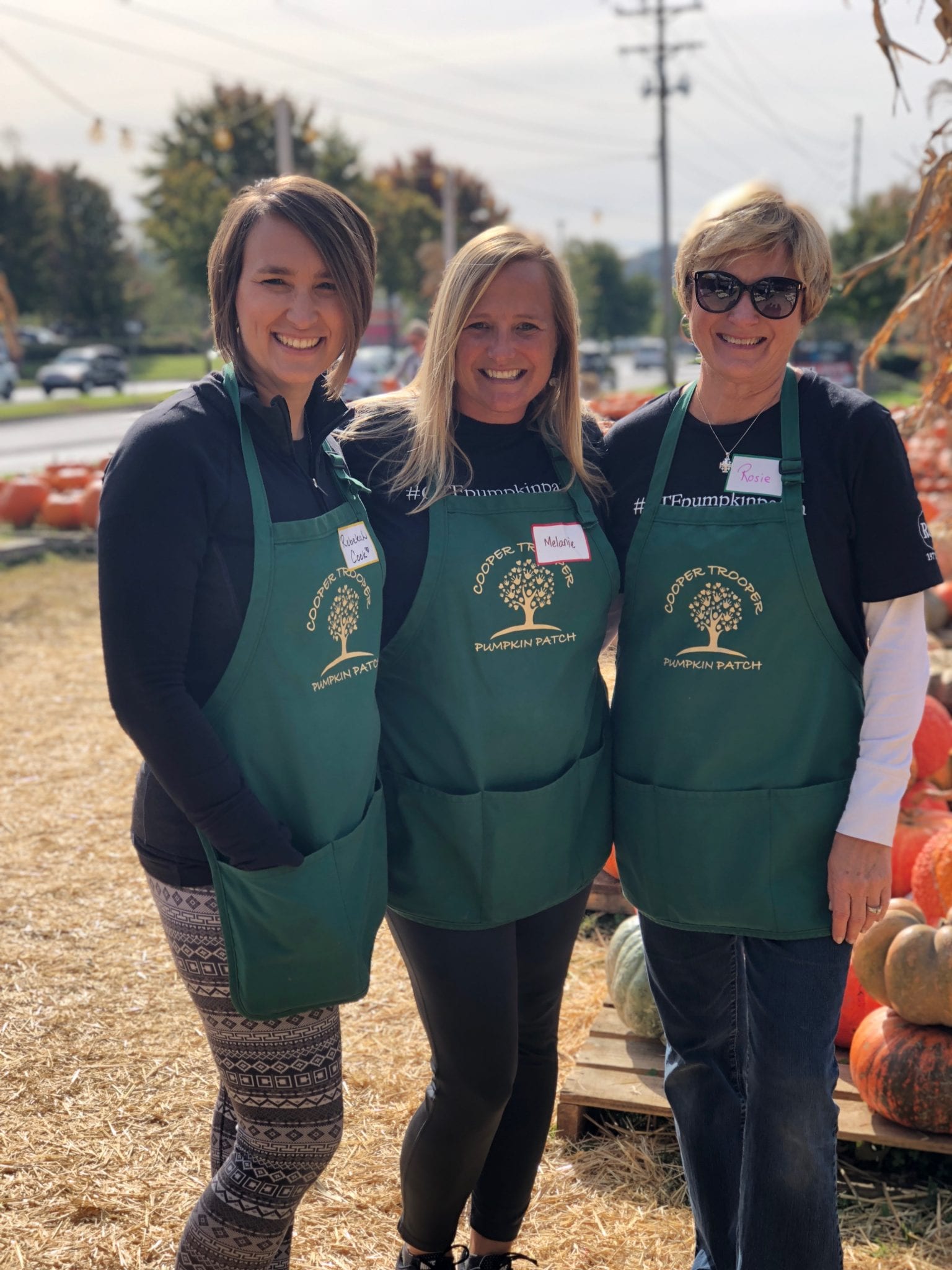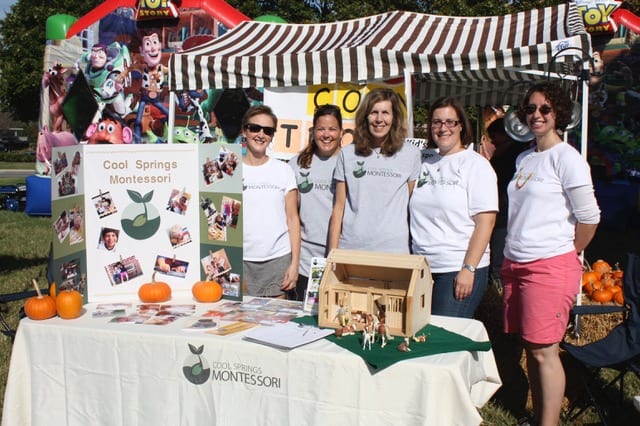 Do you have a business or company that would like to be a Corporate Sponsor of The Cooper Trooper Foundation's Pumpkin Patch? Not only will you be supporting a local non-profit in your community, but will have the advantage of "marketing" your business for almost an entire month at one of the most heavy volume-of-traffic intersections in the county.
A special thank you to our 2020 Platinum Sponsors

For more information, please read the sponsorship brochure below, then complete the Sponsorship Submission Form.
Will You Join Our Mission?
Will you join us in our mission to support those families that are diagnosed with pediatric cancer today and to help find the cure for tomorrow?