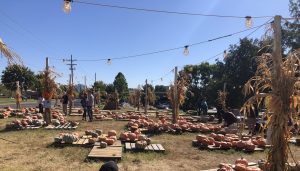 Unfortunately, we are running extremely LOW on pumpkins today!! Due to a shortage with our first loads that came in, combined with our first week open including fall break week, we have had a CRAZY BUSY week of selling pumpkins. We apologize for any inconvenience that this causes and hope that you will visit us again. By next Saturday, Oct. 19th, we will be fully stocked with pumpkins again!!
Sunday (14th) and Monday (15th)….we will be VERY low or possibly sold out of pumpkins!
TRUCKS ARE COMING and here is what to expect:
Monday (15th) at 5pm: 1/2 of a semi truck (approximately 1200 pumpkins + 500 wee-bee (baseball size) pumpkins)
Tues (16th) and Wed (17th)- 5pm: Delivery of local specialty pumpkins (approximately  900)
Saturday (19th) at 9am: 2 Full Semi trucks unloaded (6000 + pumpkins)
So, PLEASE plan to come back and see us, as we will have plenty in the coming days.
We will have our kids area open today from 10am-5pm.
Thank you for your awesome support of Cooper Trooper Foundation and our mission to support families who have had their world turned upside down by childhood cancer!